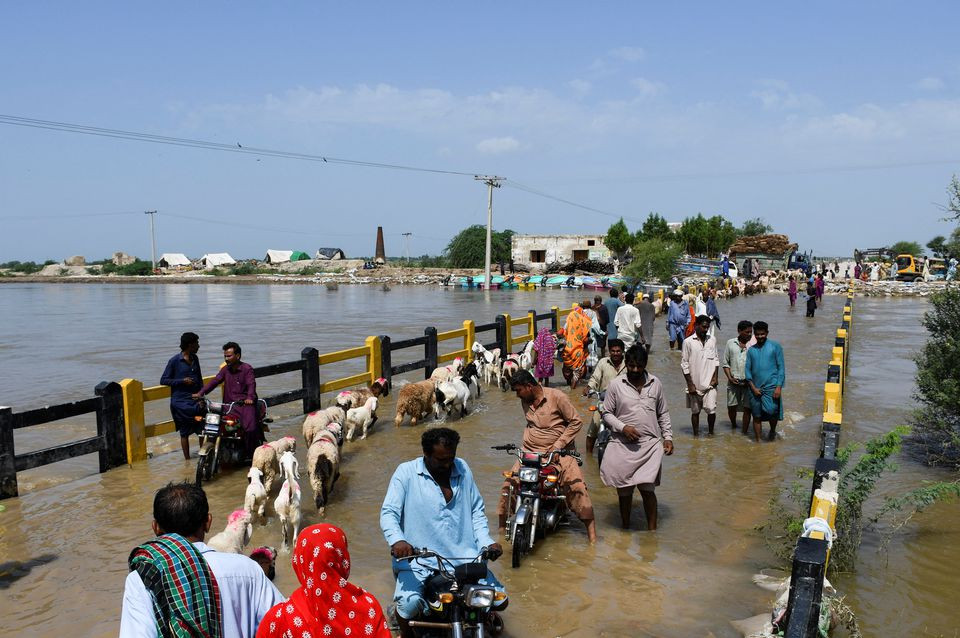 The administration in Bandin issued an evacuation alert to residents on Tuesday after the floodwater level continued to increase near the district.
According to Express News, the residents were alerted through loudspeakers in mosques and vehicles. The district administration appealed to the population to immediately vacate their homes, and move their livestock and valuables to safer places.
Local sources say that the water in the area has become uncontrollable, increasing rather than decreasing in an area of ​​50km.
The floodwater has submerged hundreds of villages in the union councils of Malkani, Samansarkar, Pir Bodlu and Pangrio among others. Water between Right Bank Drain 205 and 207 was overflowing due to severe pressure on weak embankments.
The water level in the Left Bank Outfall Drain (LBOD) was also continuously increasing to an alarming level. Fear has spread in the area after attempts were made to cut LBOD and RD 211 yesterday.
The efforts to seal the crack at Paran River have also been stopped indefinitely. Even after 17 days the water flowing through the cracks in Paran River and Sukkur Barrage could not be stopped.
Read Villagers stay back to protect flood-hit homes
Floodwater at Kotri Barrage
However, the high level of floodwater at the Kotri Barrage on the Indus River has started gradullay decreasing. The water level has also started decreasing in the areas inhabited on the river banks.
Furthermore, the floodwater level in Manchhar Lake has also decreased by another three inches, to 122.5 feet, after which water started receding from the Indus Highway and railway tracks. Pressure on Bhan Syedabad and Karampur has also started to ease; local activities have started to pick up.
According to local sources, displaced people have started returning to Bhan Syedabad. In addition to the cleanliness campaign initiated by the local administration, relief materials including tents and rations have started to arrive from the provincial government.
Boat capsizing
Meanwhile, timely action by the Pakistan Army saved many lives after a boat capsized in the Bobak area of ​​Sindh. According to sources, the army rescued elderly people, women and children and shifted them to their villages for safety.


Source link