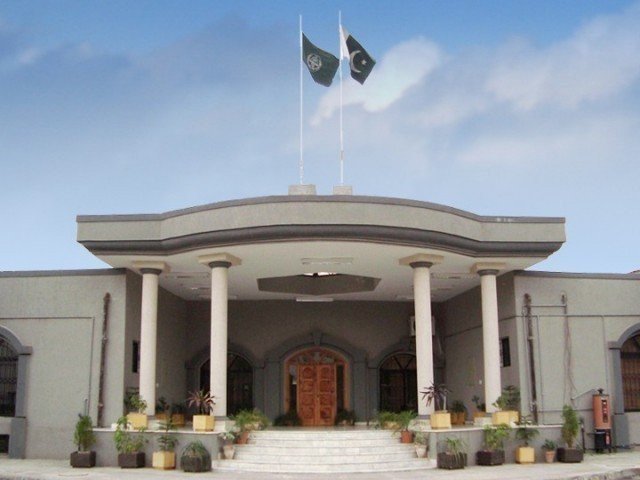 The Islamabad High Court (IHC) on Thursday said PTI chairman and deposed premier Imran Khan's speech was certainly inappropriate, but prima facie, it did not constitute the offence of terrorism.
The court also inquired how could someone be charged with a serious offence like terrorism over a speech.
IHC Chief Justice Athar Minallah and Justice Saman Rifat Imtiaz heard the plea against Imran for threatening Additional Sessions Judge Zeba Chaudhry and senior cops at a rally in while addressing a rally at Islamabad's F-9 park last month.
Imran's lawyer Salman Safdar, Special Prosecutor Rizwan Abbasi and the investigating officer of the case appeared before the court.
Justice Minallah noted that in the last hearing, he had asked that the PTI chief should join the investigation. The special prosecutor replied that Imran had joined the investigation.
The court asked the investigating officer whether or not the section of terrorism was applicable in the case. The special prosecutor told the court that the section of terrorism applied to this case.
The IHC CJ inquired whether or not there was anything other than his speech. He said not to undermine the section on terrorism as it was a very serious charge.
The judge observed that if the section was used in this manner, the people would stop taking it seriously.
The IHC chief justice observed that the words used by the PTI chief in his speech were certainly wrong and inappropriate, but apparently they did not fall under this section.
The judge inquired if there was an attack on the IGP's office after the PTI chief's speech. "Don't make this law a general one. It is a very special law that applies to terrorists," he added.
Justice Minallah remarked that the law applied to when poor policemen were martyred in terrorist attacks. "Is the IG sahib so weak that he will be influenced by his [Imran's] words?" he added.
The judge further remarked that this case should not be confused with the separate contempt of court proceedings.
The prosecutor replied that the meeting of the joint investigation team (JIT) was yet to be held and it would decide whether this section would stay in the case or not.
The court sought a report from the JIT till Monday.
The prosecutor told the court that he would be busy that day. To this, the court noted that the JIT would hand over the report itself on Monday.
The court adjourned the proceedings of the case till September 19.
The PTI chief had alleged that Judge Zeba knew that incarcerated party leader Shahbaz Gill was tortured, but she did not release him on bail. He had threatened to take action against the judge and the Islamabad IGP and DIG.
The former premier was booked in a terrorism case on the complaint of Islamabad Saddar Magistrate Ali Javed for threatening the additional sessions judge.
The FIR was lodged with the Margalla police station. It also carried Section 7 of the Anti-Terrorism Act.


Source link