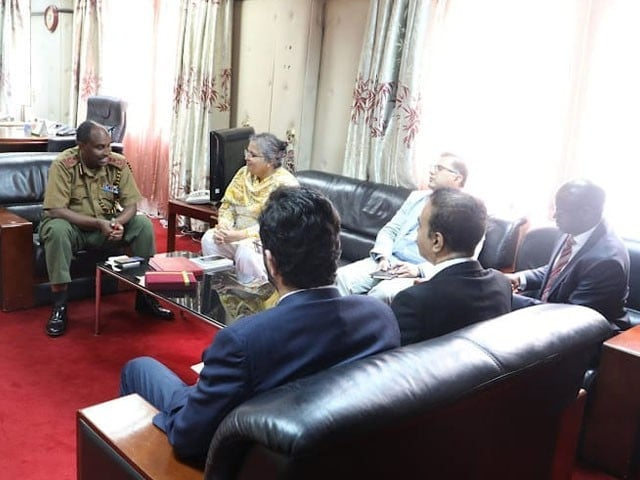 An investigation team formed to probe the murder of renowned journalist Arshad Sharif met with the Kenyan police chief and officials to ascertain the facts related to the gruesome killing.
The two-member team comprising Federal Investigation Agency (FIA) Headquarters Director Athar Waheed and Intelligence Bureau (IB) Deputy Director Umar Shahid Hamid is in Kenya to ascertain the facts surrounding the murder of the senior journalist.
The team met with Kenya's acting police chief and officials of the Pakistan High Commission. High Commissioner of Pakistan in Kenya Syed Saqlain was also present in the meeting.
According to sources, the Pakistani team discussed the Arshad Sharif murder case with the Kenyan and Pakistani officials.
The Kenyan police also shared their findings of the ongoing investigation with the Pakistani team, said sources.
Also read: Commission formed to investigate journalist Arshad Sharif's killing
During the meeting, the Kenyan police chief also presented souvenirs to the Pakistani investigators.
Earlier, the team had recorded the statements of two brothers who provided accommodation and other facilities to the slain journalist in the country.
According to sources, Sharif's mobile and iPad were also handed over to the Kenyan authorities.
Sources had said that the investigation team questioned the two brothers regarding the incident, in which Waqar Ahmed told the team that Sharif was staying at his guest house for two months, after a friend had asked him to host the journalist.
Arshad Sharif, a strong supporter of Pakistan Tehreek-e-Insaf (PTI) chairman Imran Khan, was shot dead in Kenya's Nairobi city on October 23.
The death of the journalist sent shock waves across rights organisations, the media fraternity and civil society and prompted calls for thorough investigation and disclosure of facts.


Source link