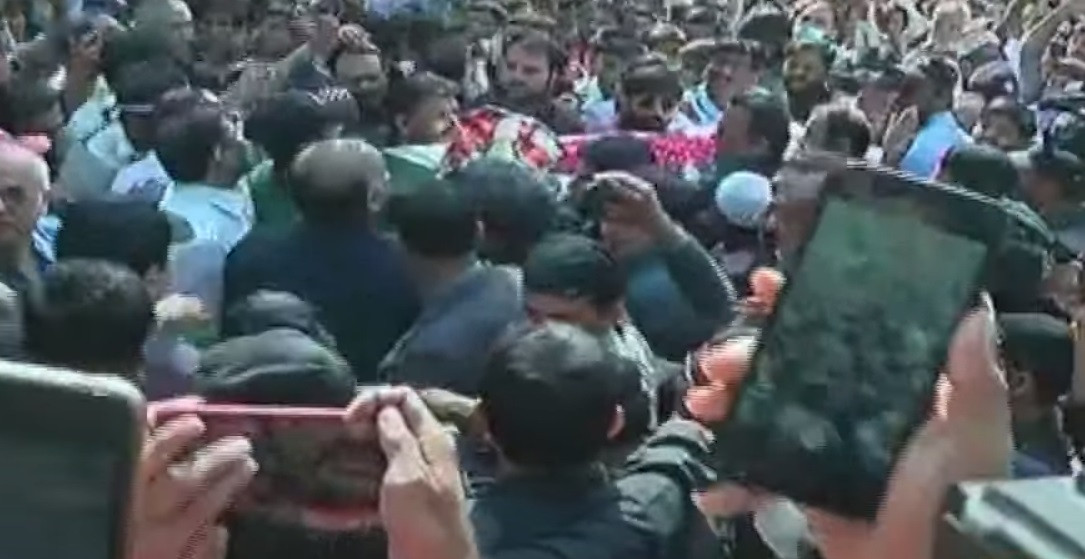 Senior journalist Arshad Sharif was laid to rest on Thursday at Islamabad's H11 graveyard with hundreds of people in attendance.
Sharif's funeral prayers were held at the Faisal Mosque at 2 PM amid tight security.
کلمہ شہادت
الوداع ارشد#ArshadSharif pic.twitter.com/XE2qSV7FtI
— Mubashir Zaidi (@Xadeejournalist) October 27, 2022
Prior to the prayers, security around the area was put on high alert with a heavy contingent of Islamabad Police and Frontier Corps deployed around the mosque.
A total of 3, 792 security personnel were deployed around the mosque and three superintendents of police (SPs), five assistant superintendents of police (ASPs) and deputy superintendents police (DSPs) were supervising the security arrangements.
Two-hundred-and-four policemen of the Sindh Police and 2,500 FC personnel were also appointed to assist the Islamabad Police.
Additionally, six inspectors and 1,010 constables were deployed for security around Faisal Mosque.
Read Journalists question Kenyan police's claims about Arshad Sharif's killing
Funeral prayers
Funeral prayers in absentia were also held for Sharif in Lahore with Pakistan Tehreek-e-Insaf (PTI) chief and former premier Imran Khan, among other senior party members, in attendance.
Ghayabana Namaz e Janaza of Shaheed Arshad Sharif in Lahore. pic.twitter.com/QwpQjTGdx9
— PTI (@PTIofficial) October 27, 2022
The funeral prayers of the senior journalist in the federal capital were offered at the Faisal Mosque at 2 PM.
Attendees were allowed to enter the funeral after being searched.
The capacity of Faisal Masjid is 300,000 people. For Arshad Sharif sahabs funeral prayers, the Masjid was full and clogged to the point that the Worshippers lined up at Faisal Avenue and Margalla road to offers prayers. pic.twitter.com/mkOVAqlWVA
— Anas Mallick (@AnasMallick) October 27, 2022
Prior to the prayers, the body of Arshad Sharif was shifted to his residence in the federal capital from the hospital.
Pakistan Muslim League-Nawaz (PML-N) senior leaders Shahid Khaqan Abbasi and Miftah Ismail visited Sharif's residence to pay their condolences to the deceased's family.
Meanwhile Islamabad Express towards Faisal Mosque#ArshadSharif pic.twitter.com/q4SsGgB8Fx
— Zubair Ali Khan (@ZubairAlikhanUN) October 27, 2022
Earlier, Sharif's mortal remains had arrived at the Islamabad airport from Doha. His wife had approached Ramna police station, which submitted her application to the Pakistan Institute of Medical Sciences (PIMS) Hospital for an autopsy.
An official at the PIMS Hospital had said the anchorperson's post-mortem was conducted by an eight-member team of senior doctors.
Also read: Punjab Assembly seeks 'judicial inquiry' into Arshad Sharif's killing
The senior journalist was shot dead in Kenya and received a hero's welcome as his body reached Pakistan from journalists, Pakistan Tehreek-e-Insaf (PTI) leaders and a crowd of citizens that had come out to express their solidarity.
The murder
The 49-year-old journalist had fled the country in August to avoid arrest after he was slapped with multiple cases, including sedition charges over an interview with PTI leader Shahbaz Gill during which the latter had made controversial comments.
Alleging threats to his life, Sharif had moved to Dubai in August and later relocated to Kenya where he had died after reportedly being shot.
Kenyan national police spokesman Bruno Shioso had said the journalist was shot dead by an officer after his car drove through a police barrier. "It is then that they were shot at, fatally injuring late Arshad Mohammed Sharif," he said.
The death of the journalist sent shock waves across rights organisations, the media fraternity and civil society and prompted calls for thorough investigation and disclosure of facts.
Several local and international journalists, including Kenyan media persons, and relevant personalities have raised questions about the Kenyan police's claims surrounding the killing.


Source link