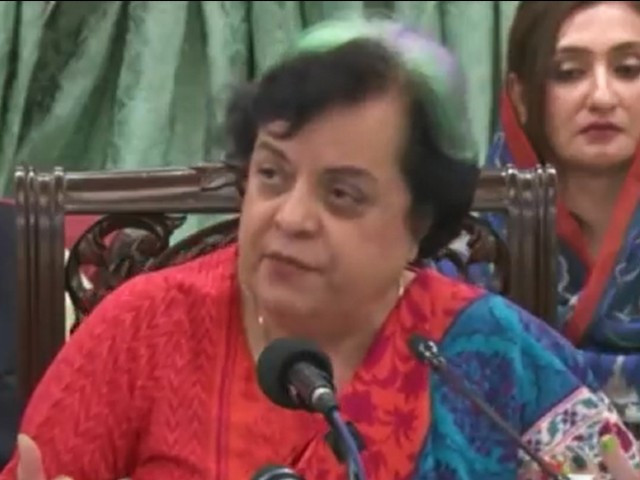 Pakistan Tehreek-e-Insaf (PTI) senior leader Shireen Mazari on Thursday said that noted journalist Arshad Sharif was killed by those who had threatened him, lashing out at the "institutions" for saying that the slain journalist had no threat to his life.
"You're saying that Arshad Sharif had no threats. He was murdered by those who had threatened him but our institutions are now saying that there was no threat," she said while responding to a presser earlier by ISI chief and DG ISPR.
Dr @ShireenMazari1 read a message she had received by Shaheed Arshad Sharif pic.twitter.com/7zgptkkX8a
— PTI (@PTIofficial) October 27, 2022
Mazari said that the DG ISI and DG ISPR talked about the Constitution, freedom of expression and democracy during their press conference, urging that politicians should also be given space to speak their minds.
Read more: Imran has constitutional right to criticise 'military's decisions': Umar
"If you can give public talks for five or three hours and criticise politicians then why can't politicians, who represent the public, say anything," she added.
آج ڈی جی آئی ایس آئی نے کہا تنقید کا حق سب کو ہے لیکن وہ بتائیں یہ حق کس کو کھل کر حاصل ہے، اعظم سواتی کیساتھ جو ہوا وہ سامنے ہے۔ @ShireenMazari1 pic.twitter.com/3I2P4N5IxY
— PTI (@PTIofficial) October 27, 2022
The PTI leader also questioned that no one has the rights DG ISPR and DG ISI were talking about. "Who has those rights? You never know I might be picked up tomorrow. They have tried once."
She went on to say that the ISI chief and DG ISPR criticised Imran Khan during the press conference and some of the criticism was direct and some was insinuation. "They both presented their views. At the end of the day, everything is subjective. Except for science, all other things are subjective even the facts can be presented in a subjective manner. It is a good thing they expressed their views but I urge them to give that freedom to politicians as well."
Mazari also lashed out at the torture meted out at PTI leader Azam Swati. "You can agree or disagree with his views. But because of a tweet, he had to go through so much physical violence and custodial torture."
Also read: COAS Gen Bajwa was offered 'indefinite extension' in March, claims DG ISI at unprecedented presser
The PTI leader said that Arshad Sharif had a bounty on his head which was paid to terrorists. "I don't want to name anyone… everyone knows who wanted to silence him."
During her talk, she also read a letter from Arshad Sharif which stated: "They have sent assassins after me. IK [Imran Khan] also knows threats about me and was kind enough to warn me. Too many players [are involved] with international nexus."
Mazari said she told Sharif that people might trace him from his background in the vlogs he was doing. "I had no idea at that time that people had already traced him."
She said that the TV anchor had made so many videos and programmes on army. "I still remember the day when his father had a heart attack and his brother died in the accident …this family has made lots of sacrifices," she added.
Death threats
Assistant to Chief Minister on Information and Public Relations, Barrister Muhammad Ali Saif said that according to Arshad Sharif's statements, he and his family were receiving threats.
ارشد شریف کے بیانات کے مطابق انہیں اور خاندان کو دھمکیاں مل رہی تھیں، تھریٹ الرٹ غلط ہوتا تو ارشد شریف کینیا میں قتل نہ ہوتے، اہم سیاسی و سماجی شخصیات، سنیئر صحافیوں کو رابطہ کرنے پر پروٹوکول دیا جاتا ہے، بیرسٹر سیف #WeTrustImranKhan pic.twitter.com/aiwrD6Jw4H
— PTI (@PTIofficial) October 27, 2022
"If the threat alert was wrong, Arshad Sharif would not have been killed in Kenya," he added.
He also said that all significant political and social figures and senior journalists are given protocol if they ask for it.
Reacting to the top military leaders' unprecedented presser, PTI leader Fawad Chaudhry said that no press conference was held by any government official to respond to India's defence minister's warning to invade Azad Jammu and Kashmir and Gilgit-Baltistan.
آج ہندوستان کے وزیر دفاع نے کہا ہم Pakistan occupied kashmir & GB واپس لیں گے لیکن ہمارے یہاں سے اس پر جواب نہیں دیا گیا۔ ہم اہل جہلم سے زیادہ کون فوج سے عشق کرتا لیکن ہم نے فریم ورک طے کرنا کہ پاکستان کو جمہوری ملک بنانا یا برما۔@fawadchaudhry
pic.twitter.com/sjw2GqSPbx
— PTI (@PTIofficial) October 27, 2022
He said that respecting the Pakistan Army and its leaders is incumbent upon everyone but added that respect for political leaders is equally important.
"We are shocked by their press conference. We cannot respond to their press conferences as the relationship of mutual respect must remain intact."
Fawad also said that slain journalist Arshad Sharif did not leave the country on the advice of the Khyber-Pakhtunkhwa (K-P) government.


Source link