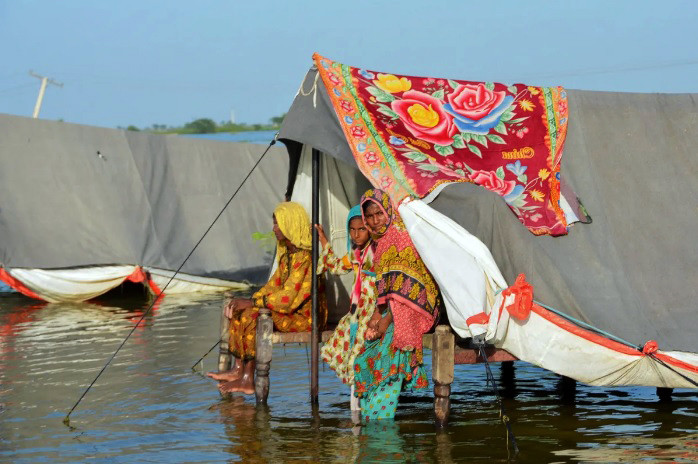 The relief goods meant for the flood-stricken people would be distributed through the army, officials of the National Disaster Management Authority (NDMA) informed a National Assembly standing committee on Wednesday.
The National Assembly Standing Committee on Cabinet Secretariat was also informed that the flood damages assessment survey had started in Balochistan while it had yet to start in Sindh because the affected parts of the province were still under water.
During the meeting, chaired by its chairperson, Kishwar Zahra, NDMA officials briefed the participants about the flood situation and the ongoing relief operation. They said that the rains this year were 200% more than the average.
Committee member Syed Mehmood Shah raised the issue that the deputy commissioner of Mastung was giving relief items to the political people, who were not even the assembly members. He added that private people are getting more goods from the NDMA.
The NDMA officials said that complaints had been received that the civil administrations were distributing goods on political grounds. Now, they added, the relief goods were not being given to the civil administration, rather, those were being distributed through the army.
The officials told the meeting that joint survey of flood damages had been started in Balochistan, adding that the similar survey would be started in Sindh after September 15, as the flooded parts of the province were still under water.
They said that the joint survey teams would comprise representatives from the NDMA, Provincial Disaster Management Authority (PDMA), local administration and the army, who would prepare the assessment report.
The committee was also apprised of supply of flood relief. The NDMA officials said that 48 flights from foreign countries had reached Pakistan with relief materials to help the flood victims, which were being provided to the civil administrations.
Committee member Osama Qadri said that the NDMA did not make preparations in advance for to cope with the disaster. Another committee member, Raza Rabbani Khar, also supported Qadri's contention.
Zahra, the committee chairperson, said that the calamity befallen on Sindh was man-made. Committee member Muhammad Sajjad pointed out that rehabilitation work after the 2005 earthquake was still incomplete, adding that not a single institution was giving relief properly.
Meanwhile, Planning Minister Ahsan Iqbal directed the NDMA and the PDMA to speed up the survey of the flood losses. He also directed the provincial governments to involve the local as well as international non-governmental organisations (NGOs) in flood relief activities.
Chairing a meeting of the National Flood Response Coordination Centre (NFRCC) to review the progress in the flood relief activities, the minister asked the health authorities to increase medical assistance in the flood-affected areas.
The minister directed the authorities to speed up relief activities and stressed that the survey of the flood losses should be completed as soon as possible. He further directed the officials to inform the people about the relief camps and regularly monitor the water levels in the dams.


Source link