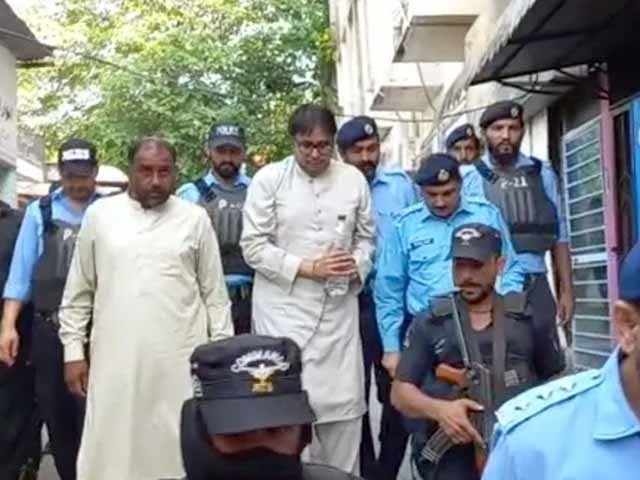 Terming Pakistan Tehreek-e-Insaf (PTI) leader Shahbaz Gill's statement 'irresponsible', the Islamabad High Court (IHC) observed on Friday that the armed forces were not so weak as to be affected by such statements.
In a six-page detailed order, issued a day after approving the PTI leader's bail plea and ordering to release him from prison, the IHC observed that the armed forces had not filed a complaint against the PTI, nor was it filed by a representative on their behalf..
The IHC added that the prosecution also did not succeed in presenting sufficient evidence to support the sedition charges against him.
Read SHC tells PTI official to cooperate in funding probe
IHC Chief justice (CJ) Athar Minallah in the order stated that Gill was arrested on August 9 under multiple charges including sedition after he gave a controversial statement on a private TV channel allegedly inciting mutiny within the armed forces and later on August 30 an additional session judge rejected Gill's request for bail.
"No evidence could be adduced that Shahbaz Gill approached a single officer of the armed forces to become party to the crime," CJ Minallah observed.
"The investigation has been completed and [therefore] he cannot be detained further," the judge added.
The PTI leader's counsel, Salman Safdar, had also argued that the trial court was also satisfied that no offense was committed apart from Section 131 of the Pakistan Penal Code, claiming "malicious intent" was behind the case and that the charges were politically motivated.
On the other hand, the prosecutor argued that the speech was sufficient to prove the sedition charge since Gill had asked the members of the armed forces to disobey the orders of the officers.
However, the court held that the prosecution failed to present sufficient evidence to prove Gill had been involved in inciting rebellion within the armed forces and granted him bail against a surety bond of Rs500,000. The IHC also stated that the trial court can compel Gill to ensure court attendance at every hearing.
Read more PTI to 'shut down' Islamabad if Imran Khan arrested
Meanwhile, the legal team of the PTI leader had approached the Supreme Court against alleged "custodial torture" and challenged an earlier IHC order under Article 185(3) of the Constitution.
Chief Justice of Pakistan Umar Ata Bandial had on Tuesday constituted a three-member special bench to hear Gill's petition regarding alleged custodial torture.
The bench will be led by Justice Ijazul Ahsan and includes Justice Sayyed Mazahar Ali Akbar Naqvi and Justice Jamal Khan Mandokhail.


Source link