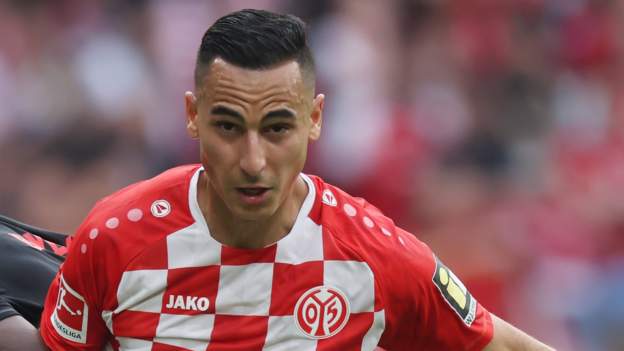 Anwar El Ghazi: Dutch winger's Mainz contract terminated over Israel-Gaza post
Dutch winger Anwar El Ghazi has had his contract terminated by Mainz for a social media post about the Israel-Gaza conflict, the club confirmed on Friday.
The 28-year-old was suspended on 17 October by the Bundesliga club after a now-deleted post on social media which was perceived to be pro-Palestinian.
Mainz said his deal was terminated with "immediate effect" on Friday, despite lifting his suspension on Monday.
"'Stand for what is right, even if it means standing alone'," El Ghazi said.
In social media posts following the termination of his contract on Friday, El Ghazi added: "The loss of my livelihood is nothing when compared to the hell being unleashed on the innocent and vulnerable in Gaza #stopthekilling."
Mainz said in a statement: "FSV Mainz 05 is ending the contractual relationship with Anwar El Ghazi and terminated the player with immediate effect on Friday. The club is taking this measure in response to the player's statements and posts on social media."
When lifting the former Everton and Aston Villa player's suspension on Monday, Mainz said: "Given his commitment to upholding the club's values and the remorse shown, and in keeping with the club's culture of using mistakes as an opportunity to learn, Anwar El Ghazi will return to training and matchday-related activities with FSV Mainz 05 soon."
Mainz had previously said El Ghazi's post "took a position on the conflict in the Middle East in a manner that wasn't tolerable for the club".
Mainz's stadium is named after founding member Eugen Salomon, a Jewish man who was stripped of his club functions by the Nazis in 1933. Salomon died in the Holocaust in 1942.
The Holocaust, carried out by Nazi Germany during World War Two, claimed the lives of an estimated six million Jews.
The club had added on Monday: "El Ghazi has since distanced himself from his post on his Instagram account, which he deleted minutes later, in multiple conversations with the club. He regrets publishing the post and was remorseful about its negative impact, especially on the club as a whole."
El Ghazi signed for Mainz on a free transfer in the summer and has played three games this season.
Writing on Instagram stories last week, he said: "I condemn the killing of all innocent civilians in Palestine and Israel.
"My sympathies are with the innocent victims of this conflict irrespective of their nationality. I am committed to a peaceful and integrated Middle East region.
"To the extent my previous statements on social media have been misunderstood, I would like to make clear that I stand for peace and humanity for all."
Mainz, who are bottom of the Bundesliga, host RB Leipzig on Saturday (14:30 GMT).