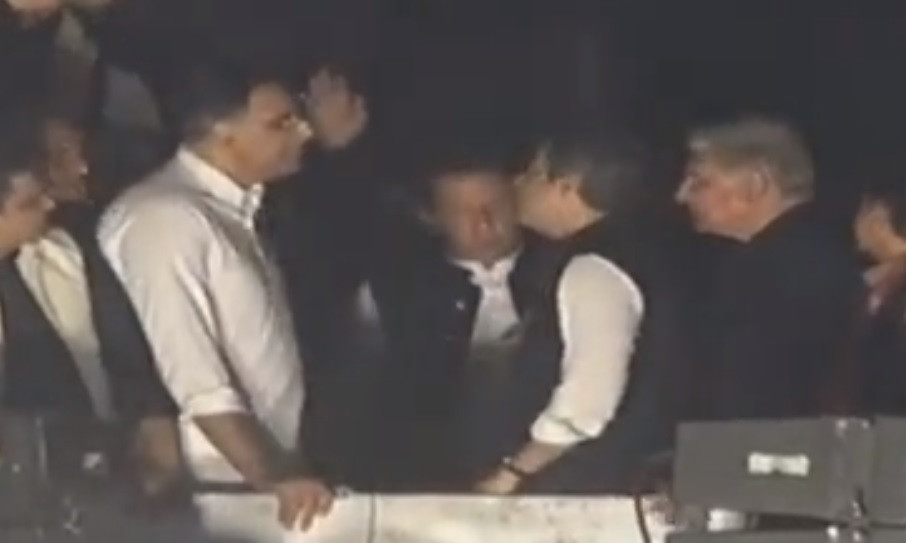 Pakistan Tehreek-e-Insaf (PTI) leader Asad Umar posted a clarification on Saturday after a video of him, having a 'heated' conversation with PTI leader Hammad Azhar during the party's long march, went viral.
Umar said that he was "only angry because the generator had broken down" and the replacement was taking longer to arrive.
"They are shocked to see yesterday's Lahore show solidarity with their captain [Imran Khan] and determination for real freedom. There is a clip circulating about possible differences. I was only angry because the generator had broken down and the second one was taking long to arrive," he said on Twitter.
کل کے لاہور کا اپنے کپتان کے ساتھ اظہار یکجہتی اور حقیقی آزادی کا عزم دیکھ کر یہ گھبرا گئے ہیں. میرا ایک کلپ چلا رہے ہیں کے اختلافات ہو گئے. اللہ کے بندوں اس وقت مجھے غصہ اس بات پر تھا کے جنریٹر خراب ہو گیا تھا اور دوسرا آنے میں دیر ہو رہی تھی 😊 #حقیقی_آزادی_مارچ
— Asad Umar (@Asad_Umar) October 29, 2022
In the viral video, Umar can be seen having a 'heated' discussion with Azhar. Party chairman Imran Khan and PTI leader Shah Mehmood Qureshi can also be seen at the back.
Read: Kaptaan marches again: What next?
The video went viral on social media and gave rise to speculations about a possible rift between the top leadership of PTI.
چار لوگ آپس میں اکٹھے نہیں تو عوام کیسے انکے کہنے پر نکلے؟ #خونی_مارچ_نامنظور pic.twitter.com/6xzgSd9mDH
— Kheeal Das Kohistani (@KesooMalKheealD) October 28, 2022
However, the PTI leader cleared the air of a possible dispute with his clarification.
PTI had set off from Lahore's Liberty Chowk after Friday prayers. Imran reached the starting point of the long march by a container along with other senior party leaders.
The party is set to resume the Haqeeqi Azadi march today to the Kamoke district in Gujranwala.


Source link