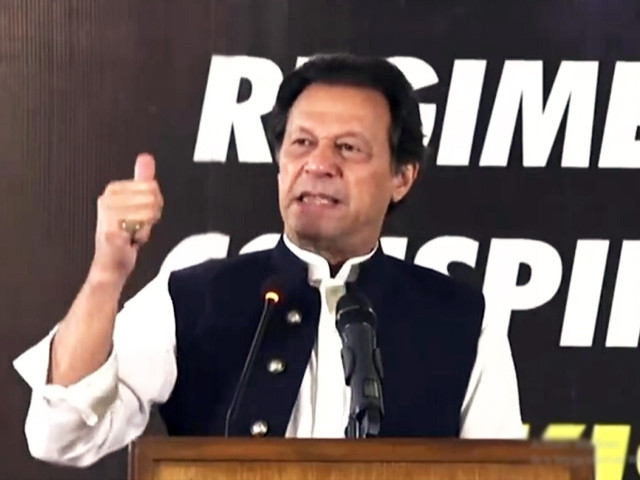 Refuting a widespread perception, former prime minister and PTI Chairman Imran Khan on Wednesday clarified that he never planned on appointing an army chief of his choice in November, 2022.
"Allah is my witness, I say that I never thought about who will be the army chief in November. Imran Khan did not need to appoint his own army chief," he said while addressing a ceremony in Islamabad.
The ousted premier alleged that PML-N supremo Nawaz Sharif has looted the nation's wealth and he wants to control the state's institutions to protect his corruption… he also wants to control the army so that his theft can be ignored.
اللہ کے سامنے حاضر ہو کر میں کہتا ہوں کہ میں نے کبھی یہ نہیں سوچا تھا کہ نومبر میں کس کو آرمی چیف بناؤں گا، عمران خان کو ضرورت نہیں تھی کہ وہ اپنا آرمی چیف لگائے۔ چیئرمین عمران خان
#RegimeChangeInPakistan pic.twitter.com/Ku6uTmrbmc
— PTI (@PTIofficial) June 22, 2022
Khan said that he had said long ago when he came into power that both Nawaz Sharif and PPP co-chairman Asif Ali Zardari would joined hands "because they have the same interests".
PML-N leader Khurram Dastgir has stated that I wanted to bring an army chief my choice, but I did not even think who would be the next army chief of the country. "We had decided to appoint the next army chief on merit when the time comes… but yes, I ask the neutrals if there is a burglary in the house, can the watchman remain neutral?"
The PTI chief said that they [PML-N and PPP leaders] were afraid that if I decided to bring in Lt General Faiz Hameed as the next Chief of Army Staff, then their [political] future would be ruined.
More to follow…


Source link