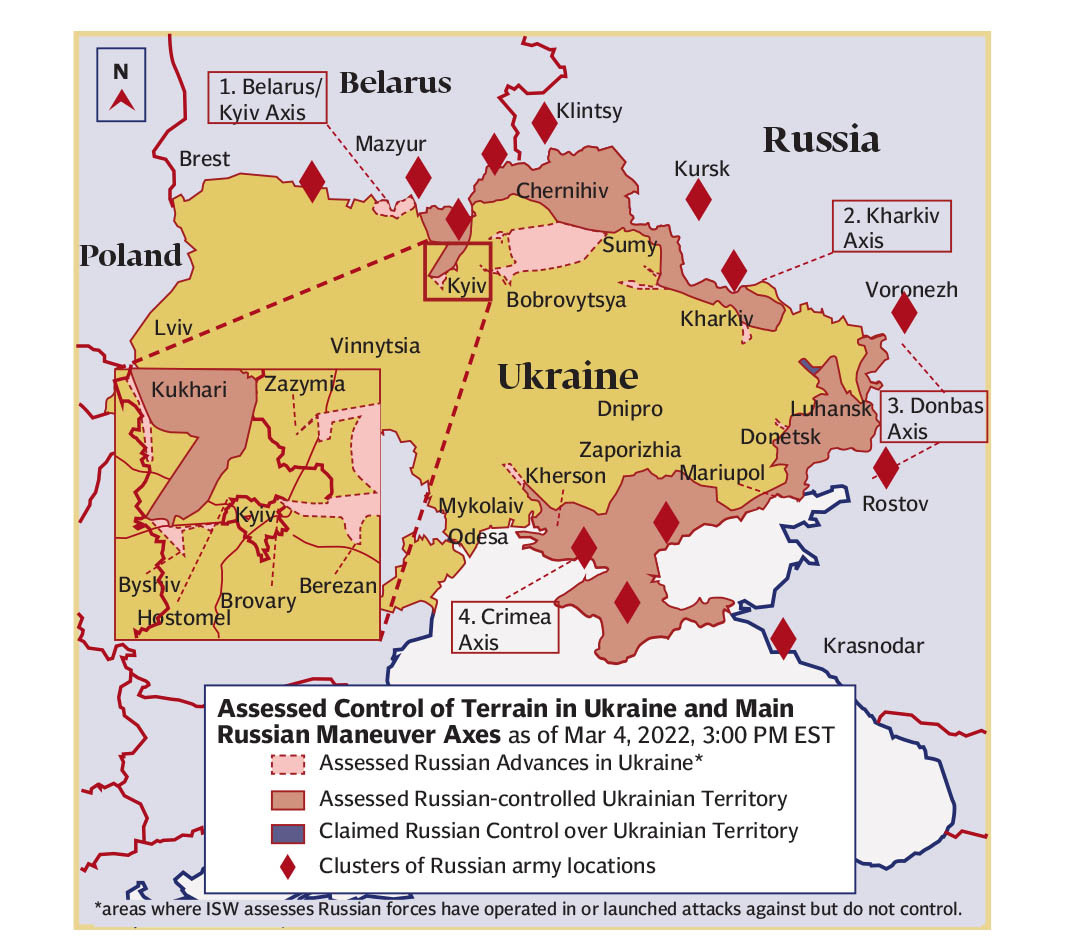 'All we hear are explosions'

With cities across Ukraine reeling under the relentless barrage of Russian rockets, ordinary citizens are still in disbelief. But even as they face heavy odds, they remain strong and determined.
Galyna is one of them. The 43-year-old resident of Mariupol and her young diabetic son have been hiding since Russian forces launched their continuous bombardment of the port city.
"My son is petrified. All he hears is the sound of explosions," said Galyna over a patchy phone call from Muriupol where sirens have wailed constantly since the conflict started.
Civilian areas, the musician said, are being targeted by the Russian forces. "The shelling starts early in the morning and sometimes continues without any break. We are running out of food, essential medicines, and water," said Galyna, who is struggling to find Insulin for her son.
"I really don't know what I will do over the next few days. I can certainly not move out of here," said the desperate mother with a quiver in her voice.
When asked about any chances of evacuation, she said: "Only those who were lucky were able to escape. Me and my son couldn't leave," said Galyna.
The strategically important port city, she said, is under heavy Russian assault. "We are surrounded by the Russians, and they have very much cut us off from the rest of the country."
After 15 hours of non-stop bombing by Moscow's troops on Wednesday, the Southeastern Ukrainian city, according to international aid organizations, is inching closer to a humanitarian catastrophe. Officials at the United Nations said the overall speed of exodus from Ukraine will trigger the 'biggest' humanitarian crisis the world has ever witnessed.
In the week since Russia launched the invasion, more than one million Ukrainians have fled the beleaguered country. With the human cost of the conflict mounting by the hour, it appears that Galyna, and millions like her will not be returning to the life they had on February 24, 2022, the day Russia invaded their country.
Speaking to the Express Tribune, Sergei, a 27-year-old IT professional, who happens to be at the same shelter as Galyna and her son said the Russians were using all types of artillery. "It is like they are testing everything they can on us and our city."
The onslaught, the city's mayor, told CNN, has left the remaining population isolated and without critical supplies. In a message on Telegram, Mayor Vadym Boichenko accused the Russian forces of depriving the residents of Mariupol of critical life-support and necessities.
A city of 400,000, Mariupol remains an important target for the Russian forces. Once seized, it will allow the Russian-backed rebels to get the support of forces stationed in Crimea, the southern peninsula annexed by Moscow roughly eight years ago.
For Sergei and his girlfriend, the days are long, and the nights are longer. The young couple is expecting their first child any day. "I don't know how we will make it. We never imagined an occupation and to be displaced like this in our own country," said the soon to be father. "I don't know how we will manage the delivery of our baby. I don't even know if we have the medical supplies to carry out such a procedure," he told the Express Tribune.
So far, Sergei mentioned, Russian bombardment hasn't spared anything. "They don't care what they are bombing. It is absolute madness. The city is dark and gloomy and all we hear is sounds of explosions."
"We are being terrorised psychologically. It is not fair to be treated in this manner — we are a sovereign nation," he added. On the other hand, Galyna, who is struggling to arrange Insulin for her son, said "I've checked with friends. Even called several people but I can't seem to find it."
"Let alone medicines we won't even have anything to eat very soon," she added.