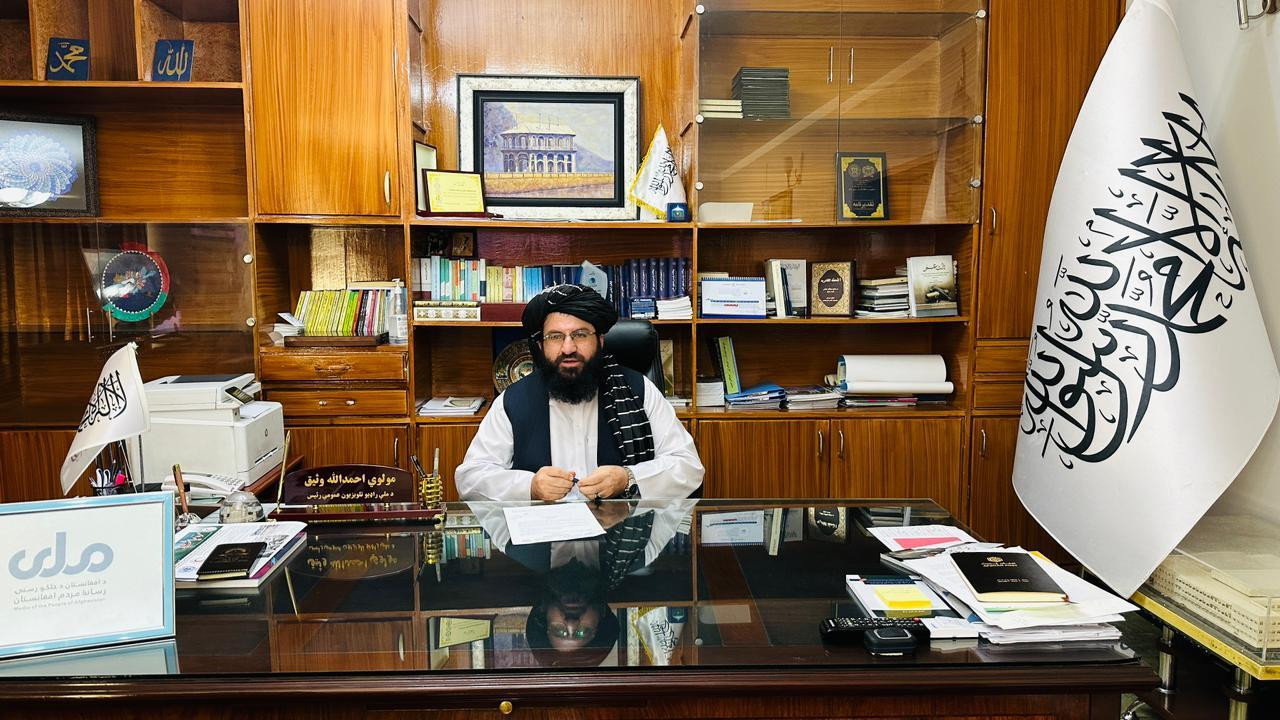 Ahmed Waseeq, 45, born in central Zabul, Afghanistan is now in charge of "Meli Television" – the Taliban state-owned TV channel and radio that represents the voices and faces of the Taliban government.
He referred to the positions he has held as "a window to Afghanistan".
Waseeq attained his early education at Baba Hotak Primary School in Zabul but due to his religious background, he ended his schooling in ninth grade and continued his religious studies.
He completed his religious studies at Sheikh Ubaid Ur Rehman Seminary in Zabul and acquired higher education in religious studies from the Taliban founding leader Mullah Omar's seminary "Jihadi Madrassa".
He has four children including both boys and girls.
Combat operations and information team
During the Taliban's first government, Waseeq fought alongside Mullah Omar in Kandahar for two years but also engaged in journalistic activities in the following years within the Taliban's ranks.
He was associated with a local newspaper "Talo e Afghan" as the desk in charge. Over the years, Waseeq advanced within the field and switched between various media organisations as a reporter, sub-editor, etc while he held the position of information director for the Taliban government in Mazar Sharif.
Waseeq was also appointed as head of the Taliban's social media websites, disseminating propagandist items in three languages including Pashto, English and Dari.
He was also heading the media wings of the southwestern provinces of Afghanistan.
In 2016, Waseeq was appointed as an aide to Mullah Zabihullah Mujahid for the culture and information commission and also headed the youth affairs department for a few years.
Later, he was appointed as head of the national television and radio in 2021 and has now held the position for 9 months.
Personal views and career achievements
"Journalism is a field with lesser rewards but full of tension," said Waseeq, adding that "since day one, I always come early in the day to monitor the screen and content myself, and leave late at night".
The national television and radio have 1,700 employees out of which 350 are women. While 1,100 employees are in Kabul, the rest are district correspondents. Waseeq claimed that since he took charge, they had not fired anyone including women and anchors.
"I have assured them that this is their home and we have brought bright pictures of the Emirate to the public and raised their voices to leadership," said Waseeq.
He accepted the challenge that the media industry changes every day. "The previous government did not have national television but invested in the private sector," he noted.
"We lack modern technologies like DCNGs and uplink equipment, none our social media departments get up to date training, and Facebook removed our pages on social media with four million active followers," he said, adding that their "Twitter handle is still active".
He also noted that in all previous democratic governments since 2001, Afghanistan "rented sports services" but now they have made "agreements of cricket, buzkashi and volleyball tournaments, and will soon air Laliga Football League".
"We have started half-day meals for all employees, raised their salaries, secured their employment, ensured the timely distribution of salaries, agreed on all department heads while also retaining 99.9% of old staffers," Waseeq said.
"I am trying to reach the standard set by Ameer Ul Moominen Mullah Habitullah. While holding this chair, 99% of good deeds are not recognised in Afghanistan but a simple disgrace or error is amplified by opponents and seen by the world. So I am on a heated seat round the clock," he concluded.


Source link