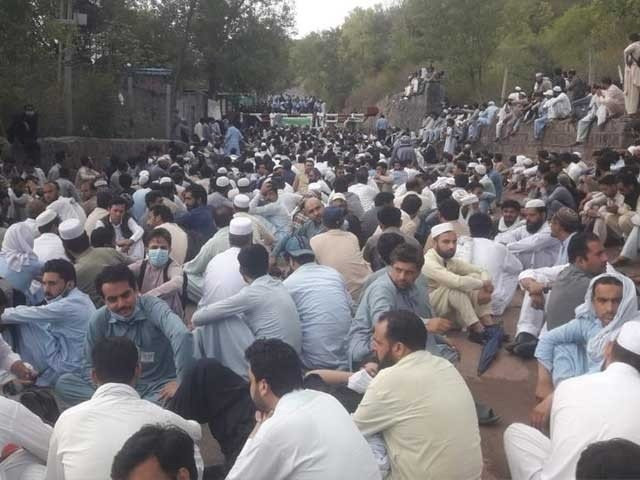 Teachers hired on an ad hoc basis in Khyber-Pakhtunkhwa (KP) continued their sit-in on Monday outside former prime minister Imran Khan's Bani Gala residence, demanding regularisation.
The protest began on Sunday night as the teachers demanded resolution of their demands.
The delegation of protesting teachers also met the Pakistan Tehreek-e-Insaaf (PTI) chairman yesterday as he assured them that their demands will be met.
The former premier has directed provincial finance minister Taimur Jhagra and the education minister to resolve the issue.
Read EST teachers demand promotion
Representatives of the protesters are set to meet a delegation of the provincial government in Peshawar today. They have announced to continue the sit-in outside Bani Gala if their demands for regularisation and seniority are not met.
Moreover, teachers working in educational institutions under the Federal Directorate of Education (FDE) have demanded a higher time scale.
Over 82 teachers including professors, associate professors and assistant professors working in 32 colleges under the FDE have demanded to be upgraded through time scale.
They maintain that they have completed their probation period in their respective grades and were eligible for promotions. Moreover, lecturers who were not granted a higher time scale in the previous meeting have also demanded a higher time scale.


Source link