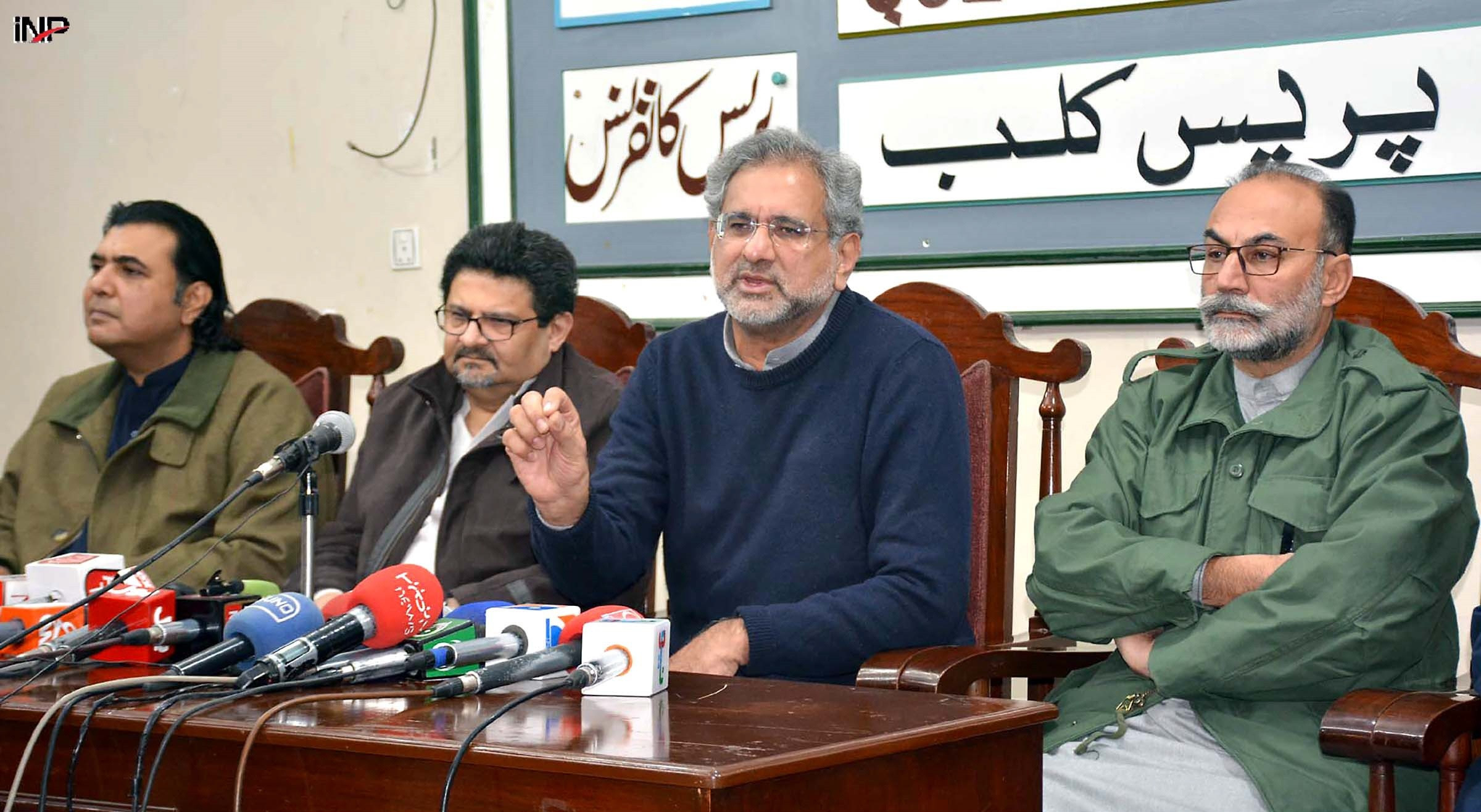 [ad_1]
Former prime minister Pakistan Muslim League-Nawaz (PML-N) senior leader Shahid Khaqan Abbasi said on Sunday that both the political leadership and the establishment were responsible for the current situation in the country and stressed that the current political system could not solve people's problems.
Addressing a press conference with former finance minister Miftah Ismail, former senator Mustafa Nawaz Khokhar and former Balochistan chief minister Aslam Raisani in Quetta, Abbasi said that the country needed political stability but there was "miracle solution" for the economic problem.
"Today's politics is the name of revenge", Abbasi said, adding that the current political system lacked the capacity to solve the people's problems because "politicians are focused on insulting and abusing" each other. "Economic crisis and political conflict will not solve the problems of the people," he added.
Responding to a question about the return of PML-N supremo Nawaz Sharif urged the judiciary to "rectify the injustices" done to Nawaz. "The injustices done to Mian Nawaz Sharif Sahab — we talk about Mian Nawaz Sharif returning to the country but we should also rectify those injustices and those injustices are very evident."
The PML-N leader has been holding a series of non-partisan talks along with other politicians on the current economic and political issues in the country. "I am not here to defend my party and the government, but the problems of the last 20 years cannot be resolved in eight months," he said.
A day earlier, the leaders also commented on the issues of Balochistan at a seminar titled: 'Reimagining Pakistan' organised by Balochistan Peace Forum (BPF) chief Nawabzada Haji Lashkari Raisani to discuss ways and means to pave the way for a political settlement of issues relating to the country and the province.
At the press conference, Miftah Ismail said that Pakistan had to repay the loans of $21 billion. "We have to focus to uplift the agriculture sector in the country," he added. He welcomed the government decision to accept all the demands of the International Monetary Fund (IMF).
"I welcome this decision of the government, though they incurred a loss of four months [and] of money. However, it is a good thing — better late than never. I hope that they will move towards finding a solution to the country's financial issues," the former finance minister added.
Nawabzada Lashkari Raisani said that they had "tried to present the problems of Balochistan to the political leadership of Pakistan". Raisani demanded that the Haq Do Tehreek (HDT) leader Maulana Hidayatur Rehman and other captives in Gwadar be released and the cases against them be ended.

[ad_2]
Source link