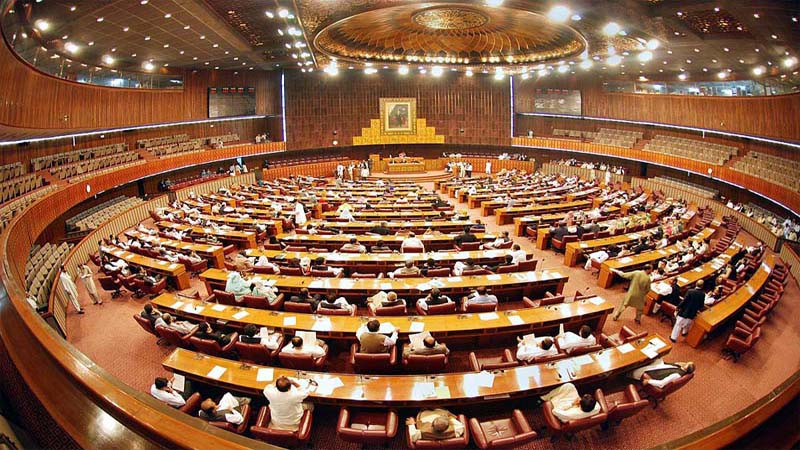 The National Assembly (NA) was informed that efforts were afoot to wean off the country's dependence on imported fossil fuels and to replace it with wind, water, coal, solar and nuclear resources in the future.
The matter came under discussion at a meeting of the lower house, presided over by Speaker Raja Pervez Ashraf. However, the meeting had to be adjourned due to the lack of quorum, cutting it short before flood damage could be discussed.
During the question period, the house was informed that in order to reduce deficit of steel mills, the federal government retrenched 5,670 employees and the number of steel mills employees decreased from 9,270 to 3,600.
Due to the retrenchment of employees, the burden of salaries had reduced from 360 million to 110 million per month.
The Ministry of Industry and Production said that Pakistan Steel Mills (PSM) paid Rs3.71 billion in domestic and foreign debt, and they were hoping that privatisation would make the institution profitable.
On the issue of excessive electricity bills in the month of August by Jamaat-e-Islami (JI) member Abdul Akbar Chitrali, Federal Energy Minister Khurram Dastgir said that fuel adjustment was done on the consumption unit of June, causing problems to the people of Pakistan.
Fuel adjustment was not applied to units with 100 or less power consumption, he added.
He said that on the instructions of Prime Minister Shehbaz Sharif, relief of Rs37 billion and Rs15 billion was given to consumers in August and September, respectively.
Dastgir said that in the future, they will not make electricity from imported fuel. Electricity will be generated only from five sources, he added.
"Electricity will be generated from solar and nuclear energy, wind, hydel and thermal coal available within the country," he told the assembly.
Syed Khursheed Shah also raised his voice on the excessive electricity bills. Dastgir assured that he would probe the matter.
Speaker Ashraf directed that an investigation should be conducted into excess bills across the country.
When the debate on floods started, Ghulam Ali Talpur said that there was an immense loss of crops and livestock. 80% of the crude houses were damaged, he added.
Talpur said that the money coming from abroad should be diverted to rebuild houses. "70% of Sindh has been affected by floods," he said, adding that the flood situation is being discussed but not a single minister is present in the house.
"One of our ministers of Sindh, who is also not in the house, may have become a sign of these space creatures," Talpur said.
The discussion on floods was going on when Ghosh Bakhsh Meher pointed out the quorum. 26 members were present in the house.
The quorum was found to be incomplete and the meeting was adjourned till 11am on Thursday (today).


Source link