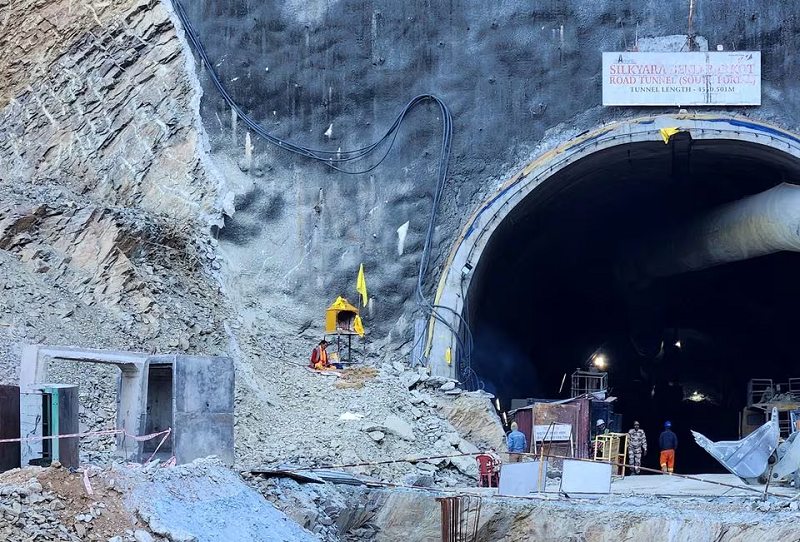 1st images from Indian tunnel show workers trapped for 9 days
The first images emerged on Tuesday of 41 men trapped for more than a week in a highway tunnel in the Indian Himalayas, showing them standing in the confined space and communicating with rescue workers.
The men have been stuck in the 4.5-km (3-mile) tunnel in Uttarakhand state since it caved in early on Nov. 12 and are safe, authorities said, with access to light, oxygen, food, water and medicines.
They have not said what caused the cave-in, but the region is prone to landslides, earthquakes and floods. Efforts to bring out the 41 men have been slowed by snags in drilling through the debris in the mountainous terrain.
A 30-second video provided by authorities showed about a dozen of the trapped men standing in a semi-circle in front of the camera, wearing helmets and construction worker jackets over their clothes against the backdrop of the lights in the tunnel.
A rescue worker outside could be heard telling the men to present themselves before the camera one by one, to confirm their identities on the walkie-talkie gear that had been sent in.
The video was shot through a medical endoscopy camera that was pushed through a second, wider pipeline of 6 inches (15 cm) in diameter, drilled through the debris on Monday, authorities said.
In the clip, the trapped men appeared to be doing fine, answering that they were all right in response to queries about their well-being, said one official in the rescue control room who spoke to Reuters on condition of anonymity.
Rescuers are set on Tuesday to resume drilling horizontally through a 60-metre (195-ft) pile of debris to push through a pipe large enough for the trapped men to crawl out.
Read also: Rescuers drill to send more food to trapped workers in Indian tunnel
Drilling had been suspended on Friday after a machine snag and fears of a fresh collapse.
Authorities are simultaneously working on five other plans to pull out the workers, including drilling vertically from the top of the mountain.
Abhishek Sharma, a psychiatrist sent to the site by the state government, said he had asked the 41 men to walk within the 2-km (1.2-mile) area where they are confined, do light yoga exercises and talk regularly among themselves to keep occupied.
"Sleep is very important for them … and as of now they have been sleeping well and not reported any difficulties in sleeping," Sharma told Reuters, adding that the men were in good spirits and keen to emerge soon.
Another doctor at the site, Prem Pokhriyal, said the men had been asked to avoid heavy workouts that could boost accumulation of carbon dioxide gas in the confined space as they breathe out.
The trapped men are low-wage workers, most of them from poor states in India's north and east.
"He said he is doing fine," Sunita Hembrom, the sister-in-law of one of the workers trapped in the tunnel, Surendra Kisko, told reporters after she spoke to him.
"He said, 'Take care of yourselves, the children and parents. Just tell us what they are doing to get us out of here.'"